Plavecký hrad
castle, ruin
The ruins of a castle, which was built in the 13th century, rebuilt in the 15th - 16th century. Turned into ruins in the 18th century.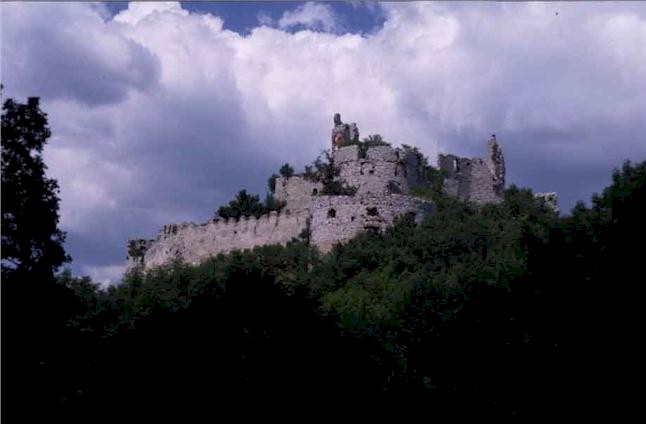 Historic names
1274 Detreh, Dethruh, 1296 Detrech, 1394 Plosenstein, 1420 Plawcz, 1437 Detrehkw, 1469 Plozsten, 1532 Plawcž; Hung. Detreko, Germ. Blasenstein, Plasenstein
On the western slope of the Little Carpathians on the Pohanská hill above the village of Plavecké Podhradie, elevation 400 m.
Access
From Plavecké Podhradie - From the village follow
(2408) along the Pohanská hillside to the castle. It is possible to continue along
to Amonova lúka meadow, from there to Mon Repos and down to Plavecký Mikuláš.
Gallery
Nearby castles
Ostrý Kameň
(5 km),
Kuchyňa
(6 km),
Smolenice
(8 km),
Červený Kameň
(8 km),
Korlátka
(8 km),
Pezinok - Starý zámok II.
(11 km),
Jablonica
(11 km),
Šaštín
(12 km),
Pezinok - Starý zámok I.
(12 km),
Pezinok
(14 km),
Dobrá Voda
(14 km),
Biely Kameň
(16 km),
Pajštún
(17 km),
Dračí hrádok
(18 km),
Branč
(19 km)