Zborov
, castle (ruin)
Place: Zborov, County: Bardejov, Region: Prešov , Historic region: Saris
Other names
Makovica; 1347 Makuicha, 1355 Makavicha, 1364 castrum Macauycha, 1367 castrum de Makovicza, 1415, 1416, 1470 Makauicha
Brief description
Ruins of a Gothic castle built in 13th century. It was demolished in 1684.
Pictures
Situation
On a woody hill in Ondavská vrchovina, 10 km north from Bardejov, altitude 474 meters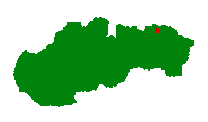 3D hrady


Hrad Beckov


Kamenní strážcovia III


Malé Karpaty 1935
Access
By bus from Bardejov to Zborov. From Zborov by

to the pass. Continue through an old oak alley to the castle. Or from the village by

trail (which comes from Bardejovské Kúpele, through the bridge and steeply up to the castle.
Literature
Satellite map
Visitors' comments
In the list are 138 comments.
Geroč
Ako sa hýbali práce na hrade Zborov v sezóne 2015? ...
Marian
Nové DVD Hrady srdca Európy I. venované 28 slovenským hradom a stavbám na základoch hradov. Prvý diel je venovaný hradom Banskobystrického kraja. Toto DVD by nemalo chýbať v žiadnej zbierke milovníka ...
Ferok
Ako sa hýbali veci dopredu na hrade Zborov v sezóne 2014 je možné si prezrieť tu:
http://hradzborov.sk/index.php?option=com_phocagallery&view=category&id=97:prace-v-roku-2014&Itemid=60

...